Hall Of Fame

The MPA:UK Hall of Fame for Drum Corps United Kingdom (DCUK) was launched in 2017 and is where the legends of the UK Drum Corps activity are remembered for the indelible impressions they have left on the UK activity.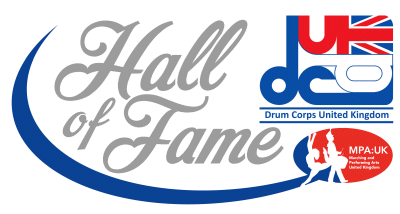 The nomination period for 2024 will be announced July/August 2024

Click here for the list of Hall of Fame members
---
The original vehicle for recognising the great work of individuals and their contributions to the UK activity was the DCUK Fellowship which began in 1985 and 18 people were inducted. These eighteen people were automatically inducted into the DCUK Hall of Fame in 2017.

Anyone can nominate a candidate for the DCUK Hall of Fame and they should submit a letter of nomination together at least two letters of support to the Hall of Fame Chairperson, following these guidelines:

Any person who writes a letter of nomination cannot write any other letters of nomination or support in one year. Any person who writes a letter of support for one person cannot also write another letter of support or nomination for any other nominee in the same year. No person may write more than one letter of nomination or one letter of support in any one year.

1. Include the complete name, address, home and work telephone numbers for the candidate you are nominating.

2. Explain why you feel this candidate should be considered for membership in the Hall of Fame. Please limit your response to two pages or less.

3. Please document:
a. The background this person has in the Drum Corps activity.
b. This personís contribution to DCUK.
c. This personís example for Corps members.
d. Reasons for Nomination - Their contribution should be substantial either by the length of commitment or through the unique contribution made in the artistic standards, administrative, leadership, or adjudication.
It should be noted that this is recognition for a person impact within DCUK and the overall UK Drum Corps activity and not for recognition for individual Corps and the nomination must reflect this or it will be rejected.
Particular consideration and thought should be given before submitting posthumous nominations for inclusion into the Hall of Fame as such nominations will only be considered in the most exceptional of circumstances.

4. In your nomination letter, include YOUR name, address, home and work phone numbers along with your signature and the date you completed and submitted this letter. Signatures should be included on all letters of nomination and support. If it is not possible to scan and send these letters with actual signatures, it is permissible for letters of nomination and support to be submitted with typed names as long the letters are also accompanied by other means of contact such as phone, mobile phone, or email.

5. Contact up to four (two minimum) additional people and ask that they write a letter in support of your candidate. It is perfectly acceptable to have two or three letters of support. In no case, should anyone have more than four letters of support. If there are more than four letters of support, the chairperson reserves the right to only use four letters. All supporting letters must be collected and submitted at one time by the nominator. Nomination presentations and all supporting documentation must be received on or before the end of the open nomination window for each year - any nominations received after the closing date and time or not fully completed will not be considered. Please refer to additional information provided below for nomination submission guidelines.

6. Nominations and letters of support MUST be e-mailed as an attachment on or before the end of the open nomination window for each year for the attention of the Hall of Fame Chairperson at hof@mpauk.org.uk. Email allows for the most efficient processing and distribution of material to our Hall of Fame committee.

7. Letters (nominations & letters of support) should each contain a phone number and/or email address of the author in case the Hall of Fame selection committee wishes to contact any person submitting letters.

8. A reminder, the person who coordinates the nomination MUST collate the letter of nomination and accompanying letters of support and submit them all at once. These must be e-mailed all at the same time for proper processing. All items (letter of nomination and up to four letters of support) can be attached to the e-mail, or can be sent in multiple emails on the same day. Any more than the maximum of four letters of support will be discarded at the Hall of Fame Chairperson's discretion.
9. Whist there is no formal maximum number of people that will be accepted each year it would only be with extenuating circumstances that more than 2 people will be inducted into the Hall Of fame each year.

10. Any questions regarding the Hall of Fame or the nomination process should be addressed to the Hall of Fame Chairperson hof@mpauk.org.uk
11. Please DO NOT advise the person you are nominating/seconding for the Hall of Fame that you are doing so. This ensures that if, for any reason, the nomination is not successful the person concerned is unaware and avoids unnecessary disappointment.