Press release by British Federation of Youth Marching Band Organisations
* New Youth Music Grant "Music Gold for 2012"
* Marching for Gold gets Cultural Olympiad recognition
* Concord gets Cultural Olympiad call-up

Music Gold for 2012. The Federation are pleased to announce that they have secured a £29,694 grant from Youth music to strengthen preparation for 2012 in nine regions. Targeted at young people with talent and potential, nine bands will act as regional hosts for a series or workshops led by professional musicians.

The bands involved are: Wirral Sound, 3rd Davyhulme S & G, East Coast Elite, Medina, Revolution, Romford D&T, Halesowen S & G, Warwick Girls and Kingston and Malden S & G. These were identified based on YM's regional priorities and because they met the deadline after approaches were made to bands representing all styles of performance and from all member organisations. The main programme will commence in the autumn and lasts until October 2012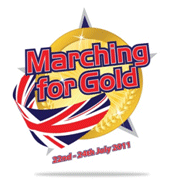 Marching for Gold. This weekend Big Diary of marching youth band activities between 22nd and 24th July has been approved by London 2012's Open Weekend team and will be posted on the Cultural Olympiad's map of national events. From an end of pier show, to workshops, to fetes, to marching through the Mersey Tunnel, our activity is rising to the challenge. BUT we still need bands to register on line with the Federation to make sure your event – whatever it is – is posted. FLASH MOB – we did suggest a carefully managed flash mob would be a great idea, but so far no band has taken up the challenge!

Concord have announced that "we are proud to say we are participating in "Alright - a Countdown event for the London 2012 Festival, the finale of the Cultural Olympiad". Concord's variety of performances in their City has secured them involvement with Sheffield Philharmonic Chorus in this major Cultural Olympiad performance during early 2012. Let's hope they're not singing !

Torch Relay. One of the best chances for bands to secure an Olympic performance in 2012. Have you made contact with local organisers now that the route has been published ?