Press Release from British Federation of Youth Marching Band Organisations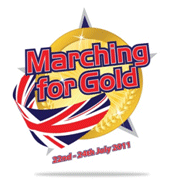 And the winner is ..... "Marching for Gold"

Thanks for all the ideas sent in for the title of our big 2011 Olympic event.

This is our chance to be part of the influential Olympic Open Weekend. Last year our '2012 Together' initiative had an amazing impact on London 2012 organisers - they genuinely became aware of what we can do.

During these three days this year we need to get as many bands, corps and guards doing something at any time over the 72 hours.

Do you have a paid gig .... a scheduled rehearsal .... a recruitment workshop ... .just enough members to 'busk around the bollards' in your shopping centre ... are you travelling to summer camp so can tap on the coach seats ................ or, what about your very own local Flash Mob** ??

Tell the Federation about anything you are doing so we can enter you in our 'Marching For Gold' Big Diary - and you'll be linked to the London 2012 web site.

If every Band, Corps and Guard did something, we could have the biggest combined live audience of the whole Olympics - one year early !

So, this is what we want to know AS SOON AS POSSIBLE (marchbands@aol.com)

Band/Corps/Guard title:
Name of main contact:
Postal address and telephone numbers of main contact:
What the event will be:
Location and times of event (including post code if possible)

Don't leave this to other people to do, don't use school holidays as an excuse - let's all USE the Olympics to our advantage. We've got to be in it to win it !

Don't forget to read through our web site's Olympic Briefing Sheet (The Torch Relay route will be announced in early May, Ceremony details are imminent )

** Flash Mob. Anyone interested let the Fed know so we can create some guidelines, we don't want to cause any heart attacks by suddenly banging, blowing or waving!