2006 DCUK British Championships Venue
and Date Announcement
Following ratification at the Board Of Trustees meeting on Saturday 22nd July, DCUK are pleased to announce that the venue for the 2006 British Drum Corps Championships will be the Burton Albion Football Club Ground, The Pirelli Stadium, Burton On Trent, Staffordshire on Saturday 30th September.


Burton Albion Football Ground
A Working Party has now been setup to look at the logistics and timings of the day but their brief is to include a Prelims event for the 5 Open Class Corps and that there should be an 8 Corps Evening Finals event as agreed at the April Board of Trustees Meeting. There will also be exhibition performances during the day.
DCUK Chairman, Gavin Johnson commented "Negotiations have been ongoing quite a while and the final decision had to wait until the Football Conference League fixtures were made available only a couple of weeks ago" and added "This is an superb stadium with excellent facilities both for Corps and spectators alike and will give all Corps the ideal venue to showcase our activity".
More details will be announced shortly - watch this space!!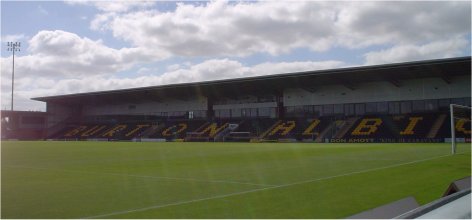 Main Stand
26th July 2006