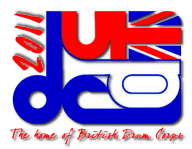 Registrations for the 2011 Drum Corps United Kingdom season will open early in the new year and details will be issued over the next couple of months however Corps not in membership in 2010 can now pre-register by filling out our on-line Pre-Registration Form or if the contact details for your Corps have changed you can also advise via this form.
Full details of the 32nd DCUK Season will be announced in due course but we can advise that the British Drum Corps Championships is scheduled to take place on Saturday 17th September 2011 and will, once again, be held at the Field Mill Stadium, the home of Mansfield Town Football Club.

If you require any further information or have any questions please contact admin@dcuk.org.uk or complete the on-line contact form.