The Pacemakers announce 2010 show - "Back For Good"
Press Release by The Pacemakers
In 2006 the public waited with bated breath. Would they? Wouldn't they? Then, on May 9th 2006, Howard, Jason, Mark and Gary announced their comeback in a record deal worth £3 million.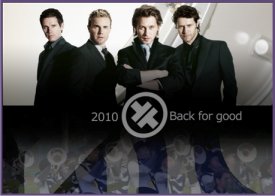 In 2010, with a production costing just under £300, the Pacemakers will bring the award winning pop band "TAKE THAT" to the Drum Corps field in a completely original format. The music score has been arranged by their in-house team of Tim Briscoe (Brass Caption Head), Kieran Bartlett (Percussion Caption Head) and Conor O'Connor (one of the youngest members and 3rd Baritone). The Show promises to explore all era's of Take That's success from 1990 to the present day.

For 2010 the Corps also welcomes the re-formation of their guard section and they are looking forward to enhancing an exciting production.

The question everybody still wants to know is ......... will Robbie be joining them this summer?