The Knights Alumni are here!
Yes it's happening!!! Following on from the roaring success of the Dagenham Crusaders Alumni Corps, Sunday 17th January 2010 will see the commencement of rehearsals of the two times DCUK Champion Corps from Brighton, the Knights.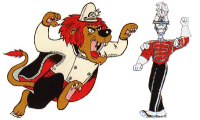 The Knights Alumni Drum & Bugle Corps are extremely pleased to announce that returning to the Corps will be Brass Caption Head Ian Lyall and Percussion Caption Head Ian Newton thereby ensuring there will be that authentic "Knights sound". The new management team are delighted at the amount of interest and enquiries already received which they hope will allow them to reach their goal of 60 "G" brass, 25 Percussion and 30 Guard - so spaces may be limited!!

The music program will include Prisoner of Zenda, Sambandrea Swing and selections from "Romeo & Juliet". Full details of the musical programme and schedule will be announced to the Corps at Longhill School, Woodingdean, Brighton at the first rehearsal on the Sunday 17th January 2010 but they can confirm that the Corps will be exhibiting at the Drum Corps United Kingdom British Drum Corps Championships and the Drum Corps Europe European Championships both in September 2010.

However before all this there will be an official Christmas Launch Party on Friday 11th December at Hove Rugby Club and all are welcome to attend and meet up with old friends.

For more details about either the Launch Party or to register your interest in being part of this historic return (and to ensure you do not miss out!) then email info@knightsalumni.info or join the "The Knights Alumni 2010" Facebook Group.