Kidsgrove Scouts to tour USA in 2010
Press Release by Kidsgrove Scouts
As part of our celebrations Kidsgrove Scouts Drum & Bugle corps will tour and compete in the Drum Corps Associates World Championships (DCA) in 2010. This decision allows Kidsgrove Scouts to continue to develop and match the demands of the Drum Corps activity in the UK and Europe whilst providing the organisation with a new and exciting challenge.

The Scouts will tour the US in late August early September in 2010 before returning to compete in DCUK and DCE championships in late September. It is something that has been planned for a number of years and will form a huge part of the many celebrations that will take place in their 100th year.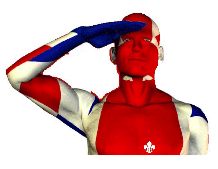 Kidsgrove Scouts would like to thank the board of DCA, Steve Vickers and Mike Mayer for all their support and work so far in the planning process. The trip promises to be an amazing experience for everyone who signís up for the year. Although the 2010 season will have a slightly different slant to it in order to accommodate events, the open age, healthy lifestyle/drum corps balance will most definitely remain the same as previous years.

To be a part of any organisation that celebrates 100 years is very special and to do it with a drum corps such as Kidsgrove Scouts will be a great honour. As the 2009 corps prepare for the season there is a huge amount of excitement surrounding the corps, there is a freshness and buzz at present with new show design approaches, and a huge commitment from the members to succeed in everything we do. Everyone is hugely looking forward to the competition in 2009 before engaging with our 2010 plans.

Anyone interested in finding out more about the Kidsgrove Scouts organisation, 2010 or the DCA tour should contact Rob Swindells through the website www.kidsgrovescouts.com through either director or USA tour information. Specific details will then be mailed to individuals.