Senators retain European DC Title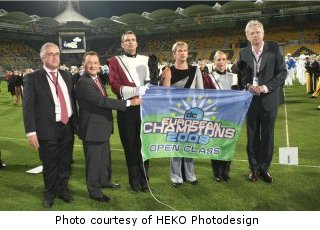 On Saturday 27th September in Kerkrade, Holland the Senators retained their DCE European Champions title against strong opposition from across Europe.
The other UK Corps making Finals were Kidsgrove Scouts in 5th Place (4th in Prelims), Poynton Commodores in 7th (10th in Prelims) and Black Knights in 10th (9th in Prelims).
Also from the UK, but not making it through to the evening Finals, were 6th Hove Scouts in 12th and Distant Thunder in 14th.
Results Open Class Finals
1 • 90.20 • Senators
2 • 88.30 • Beatrix
3 • 86.95 • Jubal
4 • 86.10 • Juliana
5 • 84.05 • Kidsgrove Scouts
6 • 75.50 • Millennium
7 • 72.25 • Poynton Commodores
8 • 71.90 • Starriders
9 • 69.25 • Wφlper Lφwen
10 • 68.70 • Black Knights

Results Cadet Class Finals
1 • 80.35 • Jong Jubal
2 • 77.05 • Jong Beatrix
3 • 73.35 • Johan Friso
4 • 67.60 • Jong Avalance

Results Open Class Prelims
1 • 88.25 • Senators
2 • 85.90 • Beatrix
3 • 85.80 • Jubal
4 • 83.05 • Kidsgrove Scouts
5 • 81.65 • Juliana
6 • 74.50 • Millennium
7 • 71.85 • Starriders
8 • 70.55 • Wφlper Lφwen
9 • 68.50 • Black Knights
10 • 66.75 • Poynton Commodores
11 • 64.85 • FB
12 • 61.30 • 6th Hove Scouts
13 • 58.30 • Calypso
14 • 55.30 • Distant Thunder
15 • 50.90 • Blue Bandits
16 • 48.25 • Besana

http://www.drumcorpseurope.org