Kidsgrove Scouts Drumline at Premier HQ
Monday 15th September saw members of Kidsgrove Scouts drumline perform at Premier Drums' Head Office in Leicester as part of Premier's Conference of European Distributors.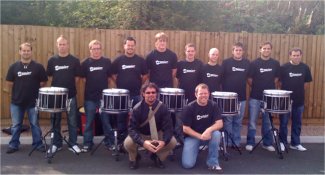 Conference delegates and office staff from Premier, many of whom had very little or no exposure to drum corps, were given an insight into the activity by way of a short clinic led by Caption Head, Gavin Morgan. The clinic consisted of three exercises from their warm up programme and two excerpts from the corps' 2008 production – 'Cirque d'Illusion'.

Gavin commented, "It has been a great opportunity for the members to perform outside of the competition arena and also to strengthen the partnership between Premier and Kidsgrove Scouts".

After the clinic the members were treated to lunch and a tour around the Premier showroom viewing all of Premier's current product line. There was also a trip down memory lane in an area of the showroom that had Premier drums on display from decades gone by.

At the close of the day, Premier's marching product specialist, Sven Parris said, "This was a fun and unexpected treat for our European delegates, from as far a field as Russia, Slovakia, Scandinavia, Portugal and Poland. Many had never experienced a performance like this and are keen to promote the drum corps style in their own countries. Who knows where this could take the Kidsgrove drum line next! Our sincere thanks go to the members of Kidsgrove for taking the time out for this performance.".

Kidsgrove Scouts would once again like to thank Premier for their ongoing support and opportunity to play their instruments.