Premier & Wijaya Music support Drum Corps in Indonesia
28-30 December 2007 saw 30 top marching bands from across Indonesia come together for the thirteenth annual Grand Prix Marching Band Competition in Jakarta, Indonesia.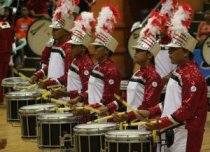 The Drum Corps and Marching Band Activity in Indonesia has come a long way from humble beginnings over the past 15 years, and continues to grow exponentially promising an exciting and productive future for youth marching music in Indonesia. Bands are typically sponsored by large companies or educational establishments and have between 80 and 130 members performing to a high level, comparable with British and European Corps.

The 3 day event included solo and ensemble competition and culminated in a spectacular grand final featuring the top competitive groups. DCI-style marching shows blended with traditional Indonesian music and custom producing a unique and enjoyable experience for competitors and spectators.


Premier Marching Specialist Sven Parris served as adjudicator in the solo and percussion analysis captions and in conjunction with Wijaya music conducted a coaching clinic with Marching Band Semen Gresik Drumline which provided a platform for the Indonesian Launch of the new Revolution Series marching drums.

Final results of the GPMB XXIII are available on the Trendmarching website at http://trendmarching.or.id/portal/content/view/693/1
.