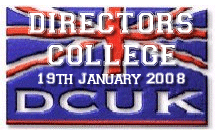 DCUK Directors College
Date: Saturday 19th January 2008
Time : 11am to 2.30pm
Register now for this exciting event being held on Saturday 19th January. This is open to ANY Corps regardless of whether you are currently in membership of DCUK - so why not come along, meet the DCUK Board and see what Drum Corps United Kingdom has to offer.
Information regarding the 2008 season will be announced including costs and contest venues plus updates on how we are working on enhancing our relationship with the other like minded organisations both in the UK and mainland Europe.
Your registration will be confirmed back to you and further details including venue information will be sent to you shortly before hand
THIS EVENT HAS NOW TAKEN PLACE - FOR MORE DETAILS ABOUT DRUM CORPS UNITED KINGDOM CONTACT US
---